How to Build a Simple Drill Press Table
Time for another shop project! This time we are going to focus on the drill press.
The Shortcomings of Most Drill Presses
Drill presses are awesome tools.  They can do a lot of things and can really save you time with quick repeatability and precise holes.  Out of the box though, they came up just a bit short for woodworkers.  Most presses come with cast iron tables of various sizes.  These are great because they are super durable and drill presses will take a beating.  But these tables usually fall short because 1) they aren't very big (especially on benchtop models) and 2) they lack the zero clearance feature so important to woodworkers.
Zero clearance means the workpiece is full supported around the drill bit (or saw blade in the case of table saws, miter saws, etc) where it will exit the wood.  Zero clearance is important because it prevents tear-out.  In the case of a drill press (or just a regular drill), tear-out happens when the bit pushes through the back of the hole and brings wood fibers along with it leaving a very unsightly hole.  If we can rest the workpiece on a scrap piece of wood then when we drill out the back of the hole there will be nowhere for those fibers to go and they will stay in tact.
The size of the table can be an issue when dealing with larger workpieces.  Smaller table = less support.  Small tables can make it harder to keep larger pieces stable.
If you're thinking you can solve these issues by just grabbing a scrap piece of plywood and clamping it to the cast iron table, you're right, you can, and most of us do that until we build our own tables.
Let's Take it a Step Further Though
The scrap piece of plywood gets the job done but with just a little bit of effort you can build with a lot of adjustability and reusable inserts so you always have a nice, zero clearance table.
A fence with a stop block will allow you to drill a hole in the exact same location of multiple parts.  Not only is there a precision pay off but you can drill these holes much fasters than you can without the stop block.
By using zero clearance inserts we can ensure that as long as we have inserts (that we make ourselves out of scrap) we'll have a fresh surface for drilling.
The Design
My drill press table is extremely simple.  I built it out of scraps and hardware I already had on hand.  It is 24″ wide, 14″ deep and 1-1/2″ thick.  There's really not a whole lot that went into this design but there are a couple of considerations that need to be made.
Depending on your drill press, the crank to raise and lower the table might be impeded by a custom table.  When I started designing my table I laid a piece of plywood on the cast iron table to ensure my crank handle cleared the plywood.  It did, so I am all good from this perspective.  Or so I thought.  More on that later.
If you start drilling into your table you'll mangle it up pretty quickly.  The best way to handle this issue is to make the table accept inserts that can be replaced.
We need to make sure we take the drill press chuck into consideration when designing the fence.  If the fence is too high, it can impede the chuck as you bring it down towards the workpiece.  One way to fix this is to make a cut out where the chuck could possibly hit the fence.  The fence in my design isn't very tall so I figured I would just leave it as is and start using it because I can always go back later to make this notch.
Dimensions and Layout
The location of the t track is really up to you.  This layout seemed to work for me but think about you work and the kind of parts for which you commonly use your drill press.  These tracks are not only for the fence.  They can be used for hold downs.  The location and size of your insert is also dependent on your drill press and how you use it.  If you use a lot of big hole saws or forstner bits then you might think about making your inserts bigger than what I have specified.
Materials and Tools
Lumber and Sheet Goods
2 – 23″ x 14″ x 3/4″ plywood
1 – 24″ x 2-1/2″ x 3/4″ plywood
1 – 24″ x 2″ x 3/4″ plywood
1 – 24″ x 4″ x 1/2″ plywood (for 6 inserts)
1 – 2-1/2″ x 2-1/2″ x 3/4″ plywood
1 – 24″ x 1-1/2″ x 3/4″ hardwood
2 – 13-1/4″ x 1-1/2″ x 3/4 hardwood
Hardware and Fasteners
*I put these links here to illustrate what is needed.  I dont recommend buying from these links.  I'd recommend buying something like this from Woodcraft: Jig Hardware Kit.  This includes more than enough for this project and also is a good set for other projects.  Woodcraft and Rockler also offer each of these items individually.
Tools I will be using in this build
theaveragecraftsman.com is a participant in the Amazon Services LLC Associates Program, an affiliate advertising program designed to provide a means for sites to earn advertising fees by advertising and linking to amazon.com
Let's Start Building!
I started out at the table saw by breaking down a piece of plywood for the two halves of the top.  I made these cuts about a 1/4″ oversize so I could trim all sides nice and flush after the glue up.
I then cut these parts to size at the miter saw.
Time to glue the two parts together.  I made sure that the two pieces were offset about an 1/8″.  This would give me one good edge to reference on the table saw when cutting it down to its final size.  Make sure that that the edges don't overlap each other or you might have a devil of a time getting a good edge on the table saw.
Lots of clamps.
I trimmed one side of the top to get a good edge and then flipped it over and brought it to its final width.
I then took it to the miter saw where I did the same thing for the length.
I wanted the table to sit about an inch behind the face of the column so I cut out a notch on the table with my jigsaw.  This would allow the fence to sit further back on the table which created more space on the top.
My jigsaw is not great so I made that cut really rough and then finished it up on the spindle sander.
It was now time to start on the fence.  I cut the two fence pieces to width on the table saw.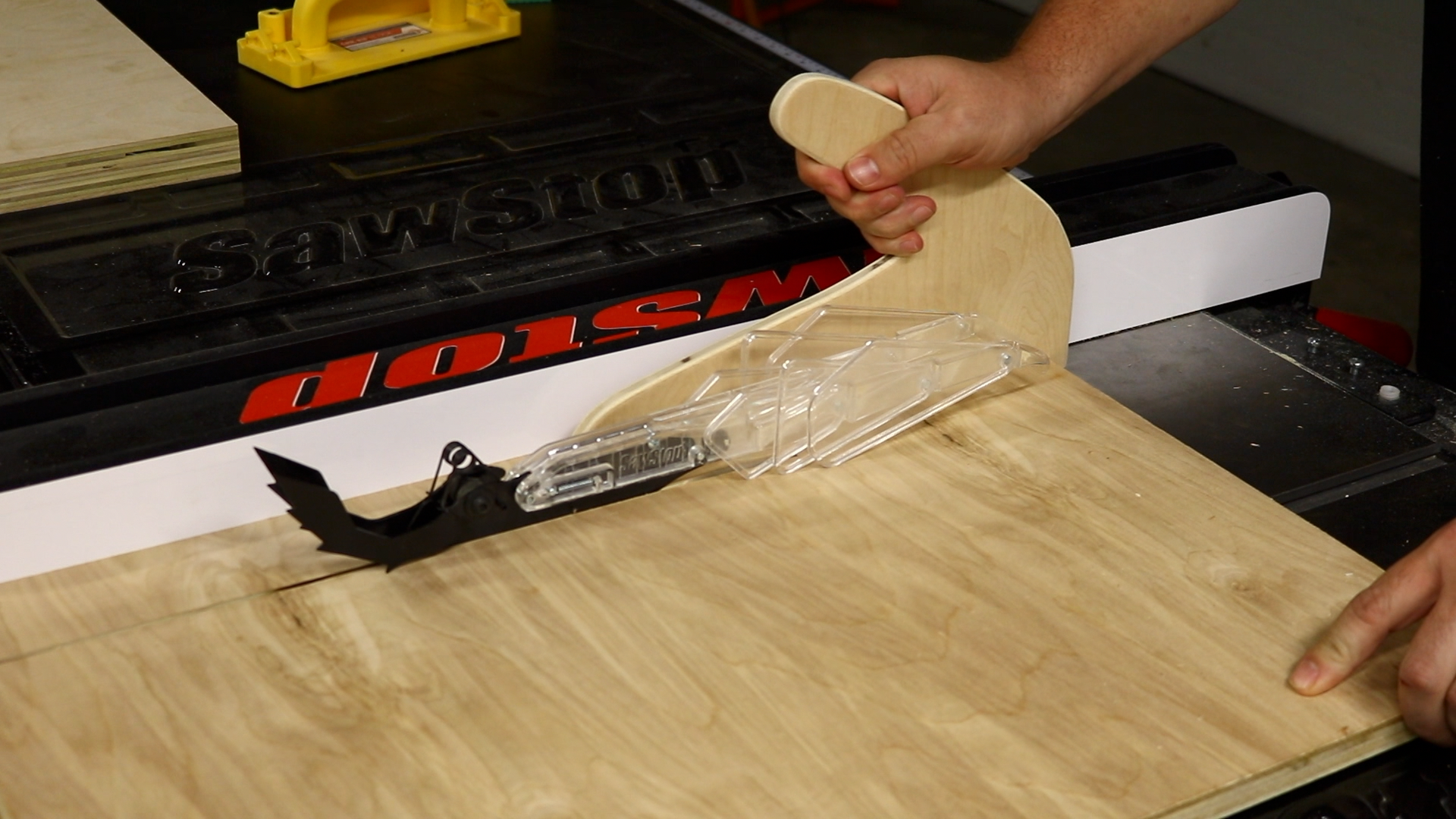 I then cut a 3/4″ x 3/8″ deep dado on the vertical piece of the fence.  When you are cutting dados you want to make sure that you get a consistent depth along the entire cut.  I do that by using my GRR-RIP push block.  I did not use my GRR-RIP push block the first time and I did not get a consistent depth and the t track did not sit in the dado very well and I had to go back and cut it again.
I also cut two dados the same size on the top.
I then took the fence pieces to the miter saw to bring them to their final length.
I could now glue up the fence.
The fence also needed a notch for the column.
Since the table is now sitting back further, the crank for the table elevation hits the table so I needed to cut out a part of the underside of the table to fix this.  Really examine your table and its relation to the hand crank.  Some drill presses have really large cranks which can make this part a little difficult.  As long as you figure it out beforehand you should be okay.  I made a change in my design after starting the build so this was unexpected.  Luckily it was an easy fix.
It was now time to start cutting the trim pieces.  I used maple for my trim as I had some scraps lying around.  Just about any hardwood would work for the trim.
When you glue on the trim pieces you want to have the table upside down so you can get the top of the table and the top of the trim nice and flush.
We want to make sure we dont destroy our table every time we drill a hole.  The best way to do this is to make disposable inserts.  I am making my inserts 4″ x 4″.  To make the inserts work correctly they need to be located on the table so you can rotate the insert after using them a few times.  This means offsetting them a bit.  Since my inserts are 4″ x 4″ I drilled a hole in the center of the table and then drew the insert location so that the hole was in the middle of the upper right quadrant of the insert.  Now when you are ready to rotate the insert the bottom right quadrant rotates up and into position.
I hogged out the majority of the insert material freehand and then clamped down a straight edge to precisely finish the outline.
I cut a bunch of 4″ x 4″ inserts and then rounded the corners on my disc sander.
Using the spindle sander I could easy make some finger holes to easily remove the inserts.
The finished insert in its place.
I hit the table and fence with 120 and then 220 sandpaper using my random orbital sander.
To attach the fence I drilled two 1/4″ holes on the bottom part of the fence in line with the t track.
To attach the table to the cast iron table I decided to use threaded inserts in the bottom of the table.  I could then use star knobs to lock the table into position.  This worked for my drill press, and it should for yours, but double check your setup.  There are many different ways you can attach these tables.
To install the t tracks I first needed to cut them to size.  You can cut these on your miter saw if you have a high tooth blade (60 or higher).  The key is to go very slowly.  It's also a good idea to sandwich some wood around the t track when cutting.
The t tracks were attached by drilling some pilot holes and then screwing in #8 x 1/2″ screws.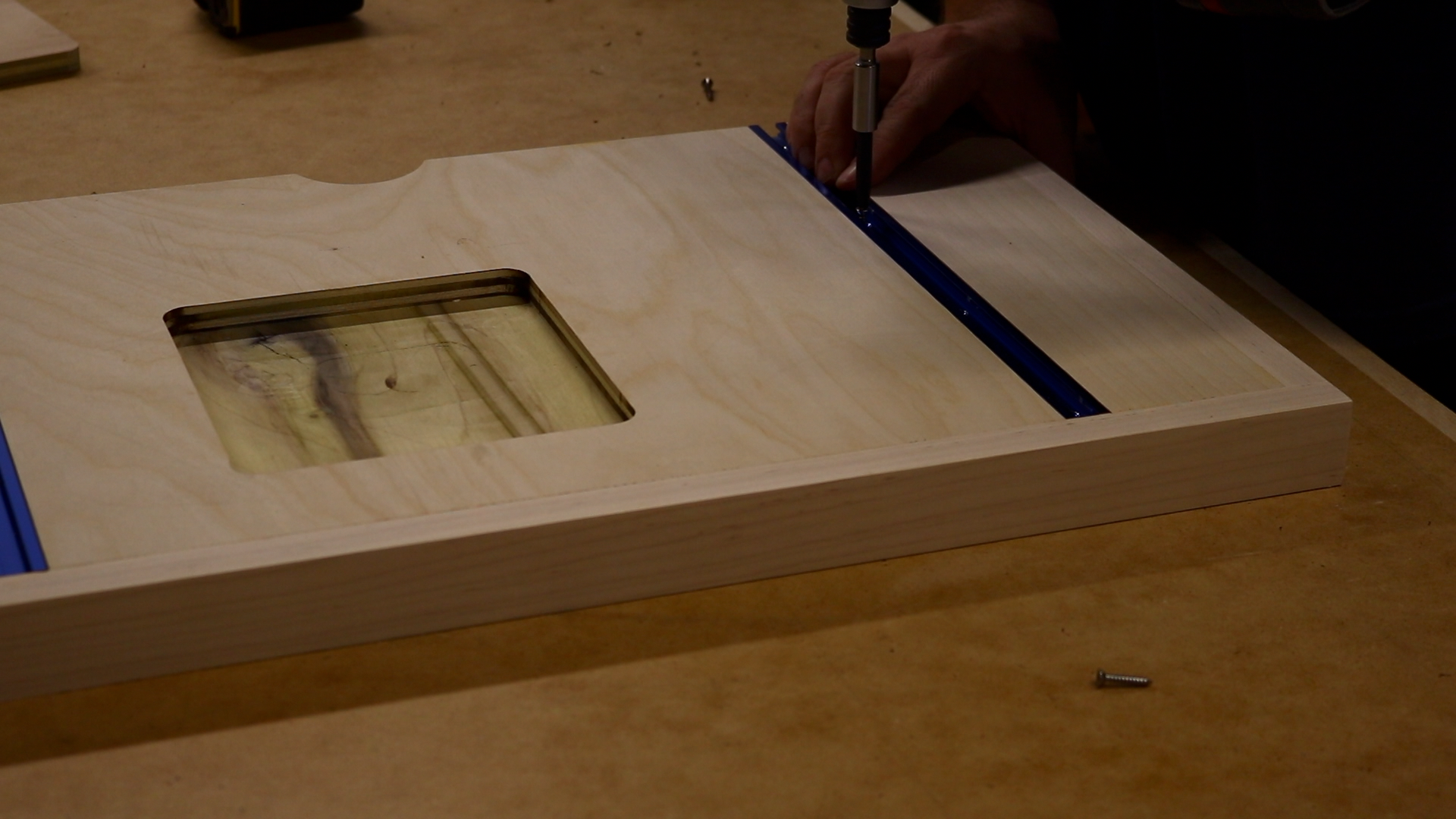 The threaded inserts screw in nicely with a flat blade screwdriver.
I then attached the t track to the fence.  Be careful here, if you're using 1/2″ screws they will probably poke out the back of the fence.
With the fence assembly complete I attached it to the top with 1-1/2″ long 1/4-20 t bolts and star thru knobs.
I was then able to attach the table to the cast iron table with 1-1/2″ star knobs.
The last thing needed to complete this drill press table is the stop the block.  I cut a 2-1/2″ x 2-1/2″ piece of plywood for the stop block.
I then drilled a whole in the center and attached it to the fence with a 1″ long 1/4-20 t bolt and knob.
With that, the drill press table was done!
Final Thoughts
Not a lot to say on this one.  It was a very easy project that delivers quite a bit of bang for the buck in my opinion.  I now have a big(er), stable surface which makes securing parts much easier and the stop block allows for the drilling of accurately repeatable holes.
I would love to hear any feedback you have on this project, the build article, the video or just about anything related to this site.  Please leave a comment below and let me know how your drill press table project turned out!